---
Bloomstall Flower Boutique in downtown Columbia, TN - Not Your Typical Florist.
Voted the best local flower shop / florist in town three years in a row! Bloomstall Flower Boutique is not your typical florist. We design and create modern floral arrangements using unique flowers. Each flower arrangement is exclusively hand created by owner Michelle.
Send flowers in Columbia, Tn. with our same day flower delivery when you order before 1pm CST. Visit the flower shop at 510 North Garden Street to shop Michelle's hand curated selection of candles, jewelry, perfume, accessories, and art. Our fresh flower bucket wall is stocked daily, come build a bouquet!
---
Send Flowers - Fresh Flower Delivery to Any Address in Columbia, Tn
---
Voted Best Florist in Columbia, Tennessee 2021, 2022, & 2023!
Thank you so much to each and every one of you that voted Bloomstall Flower Boutique the Best Florist in Columbia in the Columbia Daily Herald's Community Choice Awards.
---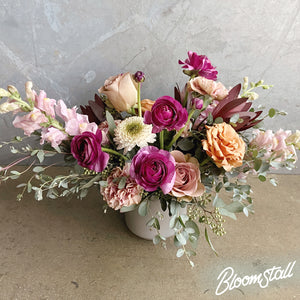 The Bloomstall - Mixed Floral Arrangement - Extra Size by Bloomstall Florist