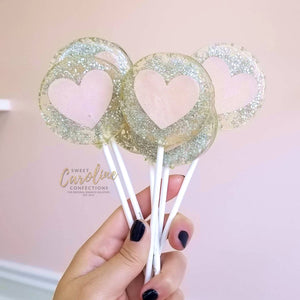 Silver & Pink Heart Lollipop - Champagne Flavor
Hand-cut blush pink glitter heart, surrounded by clear candy filled with shimmery silver sugar crystals.
THIS DESIGN IS VEGETARIAN (contains confectioner's glaze).
Sold individually wrapped.
If you are adding this item to a flower delivery it will come in a white paper bag.
This item can be added to any Bloomstall curated giftbox.