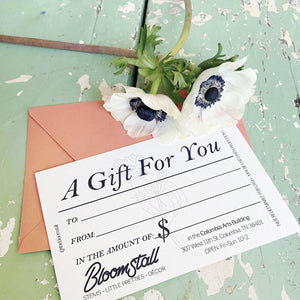 Bloomstall Gift Certificate
GIFTCARDS IN THE AMOUNT OF $75 AND ABOVE CAN BE HAND DELIVERED LOCALLY.  Gift cards under $75 can be mailed to the recipient or held at the shop for pick up by you or the recipient.
Give the gift of blooms & hand curated, women made jewelry, soaps, décor and more!  Bloomstall gift certificates are redeemable for anything in the shop including fresh and dried florals.
Your gift certificate can be mailed to you, or directly to the receiver.  Simply include their name and address in the comments field when checking out if you would like it shipped directly to the giftee.  
Bloomstall gift certificates never expire and any unused balance can be redeemed at a later date.  Simply pick an amount above to order.  Your gift certificate will come in a coral envelope ready for gifting!